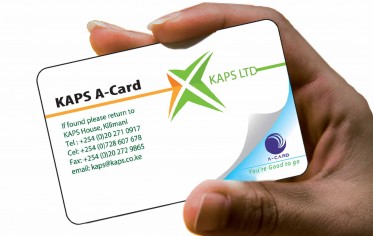 SMART CASH
Paying for KAPS Services Using the All-new A-Card
Why carry those coins and notes around? Our KAPS A-Card is a new kind of smart cash medium based on a contactless card medium which can be used to pay for your vehicle parking fees. It saves you from fiddling with coins and helps you keep an eye on where your money is going. The card will also later be available to other merchants to use in small value transactions such as payment for coffee, transport, library fees etc
The KAPS A-Card can be used at virtually all our parking sites including the locations below. The list is however growing by the day and we ask you to please contact us to confirm availability at your particular site.
Nakumatt Lifestyle
The Junction Shopping mall
Valley Arcade Shopping Centre
JKIA
Holy Family Basilica
Kenya National Theatre
Westlands Square (Uchumi Westlands, opposite The Mall)
Tusky's Tom Mboya
Nairobi Commuter Railway (NCR) prepaid card
Having been chosen as the provider for the parking and ticketing solution for the new controlled access Syokimau Railway Station, KAPS has introduced the NCR prepaid card which is an enhanced mode of payment for services offered by NCR. Syokimau is the pilot for a 28 station commuter network eventually set to handle over 300,000 passengers per day. Using the NCR prepaid card will ensure that the stations are efficiently fed and de-fed on a one tariff system where a passenger pays a single fare for multi-modal services offered end to end by NCR and partner bus companies.

The Sarit and Westgate Prepaid Card
Car parking has never been easier at the Sarit Centre and Westgate shopping malls located in the Westlands area of Nairobi. KAPS has launched a new prepaid card that allows the user quick and easy access to both the main and express car-parks at the Sarit Centre and Westgate. Each card has a special microchip that allows the user to load it with money and use this money to pay for parking charges upon exit of the respective car parks (very similar to a debit card). In this case, the user does not need to pick the paper tickets upon entry to the car parks and does not need to queue at the pay machines to pay for parking charges.
Built on wireless Mifare smart card technology, the customer whose bank account is not linked to the card can
Load up to KSh10,000
Access his or her Card statement through a web portal for registered cards
Check Mobile balance enquiries with any registered cards
Use the card as a loyalty card, hence earning immediate cash discounts/paybacks where the scheme applies
Load the card at an approved A-Card agent
Track spending online without maintaining a separate money management package
Remotely load the card via several payment options including via a web portal or simple phone transfer
Merchants can achieve reduced cash carry while saving on associated costs
Loading of these cards can either be done on-site or at the head office.
KAPS will soon be rolling out the MPESA loading option.