What is the Tokenless System?

The Tokenless system is an innovative, simple and cost-effective way of letting customers access parking without the need for traditional hardware-based tokens. This system utilizes ANPR technologies in conjunction with handheld and mobile app point of sale devices to deliver a convenient, customer friendly parking experience.
What Benefits will my Customers have?
The KAPS Tokenless Parking system provides customers a simple and quick parking experience. This means:
Reduced entry time
Eliminates the need to carry parking tokens and the associated worry of misplacement.
Can conveniently Pay parking charges from anywhere
Multiple platforms to pay through APS, Cashier, USSD and Mobile app / handheld POS
Printable receipts, for customer's convenience
The Tokenless system lets you embrace the use of virtual tokens while adding the convenience of smart devices. It also adds convenience to your location by eliminating parking cards, tickets, costly hardware systems and the worry of physical cards getting lost. This system is simple to use, quick to learn, fast to implement and cost effective.
What incentives does Tokenless Systems have for Car Park Owners and Operators?
This solution offers a significant reduction in the cost associated with having tokens used at your parking facility while at the same time reducing the tedious expense of token issuance, collection, and maintenance.
The Payments made through the system are automatically updated to the enforcement officer's handheld device. This system offers a Reduction in operating cost because of its fully integrated and interfacing with automatic number plate recognition (ANPR ) technologies, & our  management tool.
Understanding the Tokenless Parking System
The KAPS TOKENLESS system uses ANPR technology ,mobile app/handheld P.O.S to record parking related details and allow a vehicle's entrance into  a parking site without the need for a hardware-based token card. The system also incorporates the use of a thermal printer to print a receipt for the customer's convenience. Reports generated by the system can be viewed in real time through NatHAN our Management tool.
What are the processes involved in the Tokenless Parking System?
The Entry process: As a vehicle accesses a car park, the ANPR/mobile app/handheld P.O.S (used alone or in a combined setting), captures its details and send them to the System. Depending on the parking setting; gates are open in a gated setting while at a gateless setting, the driver proceeds to park without having to collect a parking token.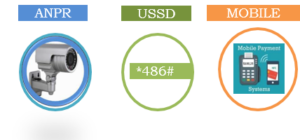 The Payment Process: When a Customer is ready to pay their parking fee they can do so at the cashier points or through a parking clerk's handheld /mobile App P.O.S. Alternatively, the motorist can pay using the mobile money or USSD option. Once paid, the motorists have no need to pay at the exit and they can drive straight to exit.
The Exit Process: As the vehicle approaches the exit point a validation process is done either through ANPR/the clerk's Handheld POS/ mobile App. Once verified as paid the in a gated setting, the gates are automatically opened, while at a gateless setting, the driver makes an express exit.  Details of any non- compliant vehicles are stored for enforcement action.
Are you considering going Tokenless? What our Team can do for you.
For many organizations, this shift toward a tokenless based delivery model can create new challenges. However with the KAPS Tokenless system, your challenges are reduced to a basic minimum. The system only requires the following:
A preferred Parking Space
ANPR Cameras
At least one payment terminal:
Mobile handheld P.O.S,
Android phone based P.O.S
USSD option, and or cashier
KAPS professional service WILL help you in leveraging industry-proven strategies developed through years of experience working with our pool of customers. We offer an end-to-end, lifecycle-oriented portfolio that helps your organization quickly capitalize on the promise of Tokenless system. We help you understand all aspects of it and work with you to plan, design, build and create your desired future state.
In case you would like to know more about our Tokenless solutions and services you can contact our sales team and get your free quote! Call us now on +254 732 146 000 and enjoy Seamless enter-park –pay &exit experience at your premises.