KAPS and Safaricom have partnered to bring a great new parking payment option via Mpesa that will significantly reduce the amount spent by customers processing their parking transactions. This integration has been designed to assist customers to make fast, simple and convenient payments.

KAPS GoMobile payment mode is currently available at the following sites:
The junction
Prestige Plaza
Sarit Center
Galleria
Ukay
Village Market
KAPS GoMobile has been undergoing several tests both internally and externally through a section of our customers to ensure that it continues to run as expected. Our testing team is also working around the clock ensuring that this service provides maximum benefit to all our customer. This new exciting system significantly reduces the amount of time spent by customers queuing and looking for a change to complete their parking transactions. Accessing this service is pretty simple, all you need to do is dial the USSD code *486#.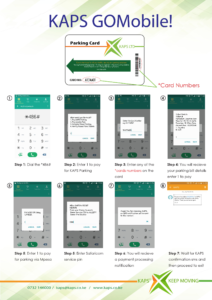 In case your site has not been enabled with this service, our RDD and ICT teams are working round the clock to ensure that you are brought on board to enable maximum access to our customers. We welcome all staff to test KAPS GoMobile service and share their feedback. In case you want to learn more about this product, you can get in touch with our contact center for assistance on 0709 899 000.