Parking access revenue remains one of the most popular solutions that are deployed to manage access and payment in facilities. These systems have for a long time provided a range of valuable solutions to deal with complex user requirements for permit and transient parkers while at the same time supporting gated access to maximize compliance and manage limited enforcement resources. However, as new parking projects are introduced, parking managers are taking the opportunity to examine new technology with a fresh perspective, Gateless Parking Systems!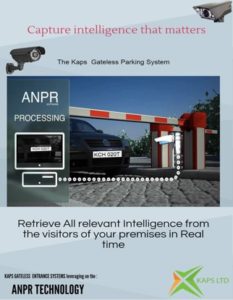 Can You Go Gateless?
Well, here at KAPS you have the option to run a parking site or garage without barrier gates, how amazing is that? Better yet, with our ANPR vehicle recognition and mobile App technology, KAPS gateless systems brings a whole new meaning to simplicity and convenience in parking.
So what really can you benefit from KAPS new Gateless Entrance Systems?
Speed and Comfort: Comfort and speed have never really gone hand in hand. However, our new gateless parking systems will offer your clients and visitors a one off, parking experience. What does this mean? This means that your clients will enjoy an express parking experience with no delays at both the entrance and exit points. This means that our gateless systems will increase your site efficiency improving the number of vehicle entrance in a minute by 50%. This system will also easily manage entry and access across multiple parking entries and exits.
Ideal System Combination: based on our proven KAPS ARK 2.0 parking platform, that's complimented by our future-ready ANPR technology and the smart mobile technology, our gateless systems ensure zero challenges at visitor arrival and departure into your premises. This means that you will be able to stay in control with improved security features and prompts.
Pocket-Friendly Solution: We value your business, and this is why our new gateless systems package is economic ensuring that you have a lower operation cost. The gateless systems offer an affordable operation system where you won't be required to build parking infrastructure that requires costly manual skills and maintenance costs. You only need to have a parking facility, ANPR Cameras, Android OS Mobile Handheld Device, Bluetooth Enabled printing device. It doesn't get easier than this!
Faster to Deploy: Due to its almost non-infrastructure setup, the installation process is speedy and manageable. However, in case you signed up for the cloud option, you can enjoy the systems convenience almost instantly.
Improved recognition rate: Our new advanced systems will save time by offering state of the art recognition systems that will offer a speedy recognition rate with highly accurate results.
What solutions does gateless parking offer?

KAPS gateless systems were specifically built for businesses that require advanced access management that suit their specific parking setting. Parking proprietors may decide to have a site completely without the gate to make sure that there is free flow in and out of their site or choose to have exit gates to restrict exits.
Completely gateless sites: In case your parking site experiences high traffic, and you wish to increase entry-exit free flow without gates, this might be the perfect solution for your site. You can subscribe to our level 1 gateless option.
Gates at Exit Only Sites: If your focus is to increase entry throughout only, and automate the exit point as your clients or visitor leave, then you can subscribe to our level 2 gateless option.
Therefore, whether you are running a completely gateless, or and exit gate site, you have the chance to enjoy all the benefits of KAPS parking systems depending on the subscription model you decide to choose.
KAPS offers 3 models to which clients can choose from:
Basic Subscription Gateless setting: This is a perfect option for you in case your main aim is to control who has access to your premises.
Standard Subscription Gateless setting: This is a fit option for you in case your goal is to both controls who accesses your parking premises while also collecting revenue through different available paying options.
Premium Subscription Gateless setting: This is an ideal investment for you in case you want to enjoy the different parking storage options.
How Efficient is KAPS ANPR + Mobile App Technology?
Our systems are able to leverage on the Automatic Number Plate Recognition (ANPR) and Mobile phone App technologies, that are used separately or in a combined manner, to ensure that customers have access to your premises. This technology linked to the KPAS parking platform (ARK) that is integrated to all payment terminals, the system is fully automated to bring the most sought after customer satisfaction and unparalleled parking experience.
How does KAPS ANPR + Mobile App technology function?
This system basically operates on a three-tiered procedure model (Entrance –Payment –Exit).
Entrance process: At the entrance, the vehicles presence is detected and the number plate and time stamp are captured via our ANPR camera along with a still image/Mobile phone App/ handheld point of entry. The remote management system captures the data and enters it into the Arc system and registers in on the entry record for validation.

Payment process: Depending on the site setting, customers can be able to pay using normal cashier mode or choose to pay through our seamless Mobile App P.o.S. At this particular stage, the clerk will enter the car registration plate on the mobile payment terminal, and the system will display the parking fee amount owing to the screen. Alternatively, the client can pay using KAPS cashless mobile payment option or our short USSD code option.
Exit process: As the vehicle approaches the exit point, it is detected, and an ANPR camera and validation are done automatically or through the mobile app exit point. Once the payment has been validated, the clerk is alerted, and they allow the vehicle to safely leave the car park. The details of any non-compliant vehicles are stored in our blacklist database for enforcement action.
KAPS Flexible Payment Systems
At KAPS we value your business, this is why with regards to all important customer service aspects of the parking premises management, the gateless system has been integrated to allow any payment method that ensures a sensitive and appropriate approach is maintained when offering parking payments. Clients can pay with:
KAPS Prepaid A-Card System
Cash payments; these can be through physical currency, mobile payment or debit cards (Visa/MasterCard)
Depending on the parking site that you have, your clients will still have the option of paying using normal pay by foot, pay on exit and through the cashier option. Our systems offer secure, flexible payment options to ensure that your customers enjoy a quick, easy and convenient parking payment process. You will also have the option to let your customers make their payments via their handheld/Mobile App P.oS or through the USSD code *486#
At KAPS we understand that for many organizations, a shift towards a gateless system may create challenges: foremost amongst them is the designing and the implementation process, that's why KAPS has a professional gateless-implementation team that is ready to help you in your gateless journey. We are going to help you create your desired future state, then plan, design, build, and enable the operational efficiency of your gateless system delivery.
In case you would like to know more about our Gateless systems and services you can contact our sales team and get your free quote! Call us now on +254 732 146 000 and enjoy Seamless enter-park –pay &exit experience at your premises.